Irma Lee Newton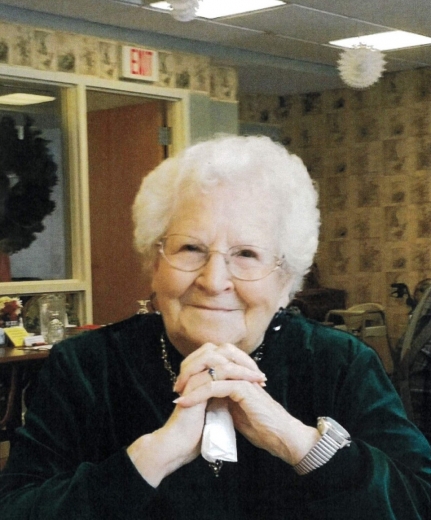 Irma Lee Newton was born on September 17, 1928 in Derby, Iowa, the daughter of Jasper and Bertha (Miller) Baker.
She graduated from the Lorimor High School in 1946. Irma Lee was united in marriage to Owen H. Newton on August 1, 1946 in Shenandoah, Iowa. God blessed their marriage with the births of four sons: Monty, Alan, Randy and John. The couple lived in the Winterset area for many years prior to moving to Ogden, Iowa. She was employed by the Ogden Public School in the hot lunch program for 29 years until retiring in the early 1990's. Her husband, Owen, passed away in November of 1990.
Irma Lee was a long-time member of Bethel Church where she was actively involved in children's and women's ministries. She belonged to the Ogden Business Women and T.O.P.S. She enjoyed painting and collecting dolls. After losing her eyesight she became active in the Iowa Department of the Blind.
Irma Lee passed away on Saturday, August 22, 2020 at the Eastern Star Home in Boone, Iowa where she has made her home for the last twelve years. She loved living at the Eastern Star home and was blessed by the loving care and the personal attention of the staff there over the years.
Irma Lee was preceded in death by her parents; her husband, Owen; a son, Randy; a grandson, Patrick; two sisters, Opal Fletcher and Nova Giles and a brother, Arden.
She is survived by three sons, Monty (Bonnie) Newton of Wheaton, IL; Alan (Gloria) Newton of Ham Lake, MN; and John (Sherri) Newton of Buffalo, MN; ten grandchildren; twenty great-grandchildren; two sisters, Leah Wallace of Boone, IA and Gertrude Benedict of New Virginia, IA; as well as many others who mark her passing with loving affection.
A graveside service for Irma Lee will be held at 11:00 a.m. on Wednesday, August 26, 2020 at Pleasant Hill Cemetery in rural Boone, Iowa. Social distancing will be encouraged. The family requests that no flowers or memorials be given. Carson-Stapp Funeral Home in Ogden has been entrusted with arrangements.
Visit Carson~Stapp Funeral Home by clicking here.
Category:
Mid-America Publishing
This newspaper is part of the Mid-America Publishing Family. Please visit www.midampublishing.com for more information.