Joseph McFarland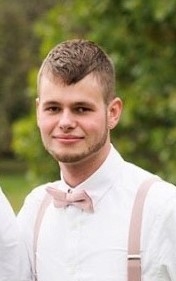 Joseph "Joe" McFarland, 21, of Boxholm, Iowa, passed away on Tuesday, August 11, 2020, of injuries sustained in a motorcycle accident.
A family conducted celebration of life gathering will start at 3:00 p.m., on Saturday, August 15, 2020, at 755 I Avenue, Ogden, Iowa, 50212. Private funeral services will be held at a later date with burial to follow at Lawn Cemetery, rural Boxholm. A public visitation will be held at a later date at Carson ~ Stapp Funeral Home in Dayton.
Joseph Steven McFarland was born on January 20, 1999, in Boone, Iowa, the son of Steve and Nancy (Helvick) McFarland. He graduated with the Ogden High School class of 2017.
Joe currently lived in Ogden and worked as a mechanic at Anything Scout in Ames. Joe loved cars and working on anything with an engine! He loved his friends and could strike up a conversation with just about anyone - Joe was a friend to all.
Survivors include his mother, Nancy McFarland of Boxholm, IA; father, Steve McFarland Jr. of Webster City, IA; two sisters, Katy McFarland and her daughter, Rylee of Humboldt, IA, and Alanna McFarland of Boxholm, IA; grandparents, Virginia and Harlan Adams of Boxholm, IA, Tammy Helvick of Bondurant, IA, Steve McFarland Sr. of Duncombe, IA, Diane and Ray Kinnetz of Webster City, IA; and many other friends and relatives.
Joe was preceded in death by his brother, Andrew "Andy" McFarland in 2010, and grandfather, Don Helvick in 2009.
In lieu of flowers memorials may be left to the discretion of the family.
Visit Carson~Stapp Funeral Home by clicking here.
Category:
Mid-America Publishing
This newspaper is part of the Mid-America Publishing Family. Please visit www.midampublishing.com for more information.