Mildred Jones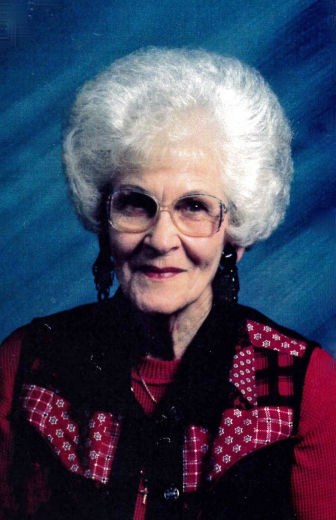 Mildred L. Jones, age 94 of Boone, passed away on Wednesday, March 16, 2022 at her home.
Mildred was born on the family farm on September 17, 1927, the daughter of Paul and Mabel (Larsen) Thorn. She was the second of ten children. She grew up in Rutland, IA and attended school there, graduating at the age of 16. Mildred continued her education for a year in Cedar Falls and then a year at Boone Community College, earning her teaching certificate.
Mildred's first teaching position was delayed a month until after her 18th birthday, because a person could not teach until they were 18 years of age. She taught in a one room school house for a period of time until her fourth child was born, but kept her certificate updated. After the passing of her husband in 1953, Mildred went back to teaching in Ogden until 1968. Mildred was unanimously voted most outstanding teacher of the year in 1961. She was the first teacher to receive an award from the students.
Mildred lived in Colorado for a few years, before returning to Norwalk, IA, where she began teaching again. She moved back to the Ogden area and was a substitute teacher at Ogden Schools.
Mildred was a seamstress; sewing over 100 flannel jackets for her family members. She loved flowers, birds and gardening. She definitely had a green thumb and always planted in odd numbers. Mildred did not like snakes, but her and her trusty hoe would chop them into pieces.
Mildred went parasailing in Mexico at the age of 68. Then at the age of 70, she helped her son, John drive to Alaska just to make sure he wasn't going to live in an igloo, "because you know Alaska is all snow and ice".  
Mildred was preceded in death by her husband and the father of her children, Willard W. "Jack" Jones; parents, Paul and Mabel Thorn; sisters, Marian and Violet; brother, Robert "Bill" Thorn, Melvin Thorn, Roger Thorn and Jerry Thorn; granddaughters, Chantyl McCoy and Christine Bruns; brothers-in-law, Ross "Bud" Ahrens and Delbert Ingalls; nephew, Randy Ingalls; husbands, Frank Long and Helmer Steinick; along with other in-laws, nieces and nephews.
She is survived by her four children, John Jones, Jacque (Steve) Toyne, James (Carol) Jones and Joel (Donna) Jones; sisters, Mary Lee Ingalls, Joyce Goos and Dianne Christensen; brother-in-law, Lou Jones; 14 grandchildren; 18 great grandchildren; 7 great-great grandchildren.
Visitation will be held from 1:00 until 4:00 P.M. on Sunday, March 27, 2022 at the Schroeder-Reimers Memorial Chapel at Sixth and Marshall Streets. A Private Family Graveside Service will be held at Union Cemetery in Humboldt.
Online condolences may be left at www.schroedermemorialchapel.com.
Schroeder-Reimers Memorial Chapel at Sixth and Marshall Streets is in charge of arrangements.
Category:
Mid-America Publishing
This newspaper is part of the Mid-America Publishing Family. Please visit www.midampublishing.com for more information.