Sharon J. Engnell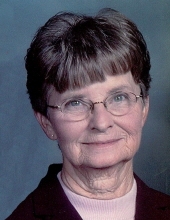 Sharon J. (Tilley) Engnell, age 80, of Boone, passed away on Monday, November 16, 2020, at her home with family by her side.
A graveside service will be held at 10:00 A.M. on Friday, November 20, 2020 at Linwood Park Cemetery in Boone.
Sharon Jean (Tilley) Engnell was born on January 16, 1940 to Joseph and Marie (Tolliver) Tilley at the Boone County Hospital. She graduated from Boone High School in 1958.
Sharon was united in marriage with Donald Engnell on February 14, 1959 at the Central Christian Church in Boone.
Sharon was employed by the Ogden Community School District as business manager for 25 plus years.
Sharon and Don traveled to the west coast numerous times over the years. Las Vegas and Los Angeles were their two favorite vacation spots. The whole Engnell family made the trip to Disney Land, as the children were young and then again when all the grandkids were little.
Sharon was a devoted grandmother. She loved spending time with her grandchildren and helping care for them over the years. Sharon also enjoyed spending time outside gardening flowers.
Sharon was a member of the Augustana Lutheran Church, where she volunteered in any department that needed help, from funeral luncheons to helping in the office, and anything in between.
Sharon was preceded in death by her parents; 3 brothers, Marlon, Ronald, and Randy; 2 sisters, Phyllis and Shirley Ann. She is survived by her husband of 61 years, Don; children, Kurt Engnell of Fort Dodge, Joni Sheriff of Boone, and Julie (Scott) Dorr of Boone; grandchildren, Jenny Flaherty, Jason (Amanda) Engnell, Eric Dorr, and Tyler Dorr; great-grandchildren, Makenna Flaherty, Taylor Engnell, and Riley Engnell; and sister, Sandy Garberding of Littleton, CO.
Funeral arrangements are under the direction of the Schroeder-Reimers Memorial Chapel at Sixth and Marshall Streets in Boone. In lieu of flowers, memorial donations may be directed to Augustana Lutheran Church in Boone.
Visit Schroeder-Reimers Memorial Chapel by clicking here.
Category:
Mid-America Publishing
This newspaper is part of the Mid-America Publishing Family. Please visit www.midampublishing.com for more information.