Bulldogs are 2A state softball champs!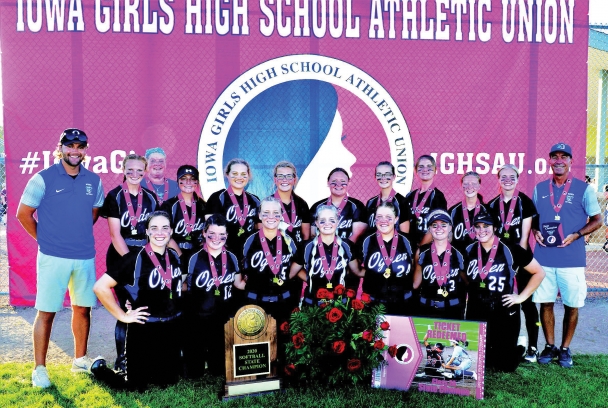 When it came down to the 2A championship game at the state softball tournament, the Ogden Bulldogs relied on what's carried them through this entire season. That is strong pitching, timely hitting and great defense to back up Denali Loecker. It turned out to be more than enough in grabbing their first state softball title, and first ever state title in any sport for the school, in the 6-1 win over two-time defending champ North Linn (Troy Mills).
As opposed to their first two games in Fort Dodge, this time they didn't have to battle from behind as they plated four runs in the top of the second to take firm control and force the Lynx to play catch up. Hannah Dutcher started that run with a free pass to first, followed by a Gabby Ross base hit. Faith Mohr then stepped into the box and calmly smacked a double to bring home Dutcher. Ross would score on an error, with courtesy runner Reagan Kruse also making it in. Denali Loecker drilled a double to left to score Lauren Kennedy after she reached base then second on errors. The team could have had even more, as Meredith Adreon, Loecker and Jenna Palmer were all left on base.
The ladies were by no means done for the night, and in the fourth inning after two strikeouts Loecker stepped in and used her powerful bat to rocket a ball over center field and probably all the way into the parking lot. In the fifth, they tacked on an insurance run as Ross reached for the second time. She was advanced to second by Mohr, then went the rest of the way home on errors. At that point it seemed to deflate the Lynx bats, and Loecker did the rest from there as the celebration soon followed.
"It's hard to put into words," stated an elated head coach Mike Moses. "I'm happy for them. They do all the hard work, I do the behind the scenes work. I told them right after the game that you've worked so hard all these years and the dream finally came true. It's a pleasure for me to be around them. We have so much fun. We played some tough competition during the year and that's what got us ready for this."
Ross swung the strong bat when needed the most, going 3 for 4 with a double and two runs scored. Loecker two big at-bats were joined by Mohr's double and a Dutcher single. Loecker's line in her final high school game in the circle: one earned run on a four-hitter with just two walks and seven K's.
"I'm lost for words, this feels amazing," said Mohr about being on a state championship team. "We worked hard for this, and it was our goal at the start of the season to win gold." She felt that early four-run lead helped a lot. "The pressure was then all on them," she said. "They haven't been down like that all year. We wanted to play solid all the way through and finish it strong."
"It's an unreal feeling," said Dutcher. "We're making history for our school, and I'm proud to be a part of that." She said this team never gets rattled, no matter how bad things might get. "No matter what's happening, we keep a level head and don't get too up or down," said Dutcher. "We knew Denali would be walked in her at-bats, so we wanted to step up and help bring her in. We really are like one big family."
Ross, Kennedy and Reagan Church were all further rewarded for their outstanding state play by being named to the 2A all-tournament team, a team which is being captained by their teammate Loecker.
"This feels phenomenal," said Loecker after the game. "I don't even have words to describe it. Like it's been our dream since I was an eighth-grader. All of us together have been dreaming about this and it came to reality. At the end, I had goosebumps and couldn't get rid of them. I'm so excited and don't know how to explain it. It's just awesome!"
She was asked about the homerun. "I've had so few chances to hit the ball, four actually," she said. "I did okay the first time, but I knew I had to do something with the ball and I was like 'oh my gosh, awesome!" She was also being intentionally walked seven total times, with six in a row through the first two games. "It was awesome just to get on base, and I knew I have awesome teammates behind me," said Loecker, who's next stop with be as a new Iowa Hawkeye softball player. "I just took advantage of being on base and it worked."
So the seven Bulldog seniors, Loecker, Kennedy, Meredith Adreon, Mohr, Ross, Palmer and Dutcher ride off into the sunset and the rest of their lives after providing the school its first state title and all of their fans so many great memories. As coach Moses said, they had the dream and achieved it. This title can never be taken away from them, and that beautiful trophy will forever be on display to remind them if they visit the school again about that special time.
Below is a video that one of our sport reporter Kristi Nixon was able to get with Head Coach Mike Moses. 
Photo Galleries 
Ogden State Championship Game 
Ogden vs Louisa-Muscatine
Ogden vs. Mt. Ayr
You can purchase any of the photos from the galleries by clicking here.
Stories from the season:
Everybody returns from Ogden softball's state run 
Bulldog girls start the season red hot 
Lady Bulldogs suffer first two losses of year 
Ogden softball scores huge win over Madrid
Category:
Mid-America Publishing
This newspaper is part of the Mid-America Publishing Family. Please visit www.midampublishing.com for more information.