Donald Lee Crouse, 85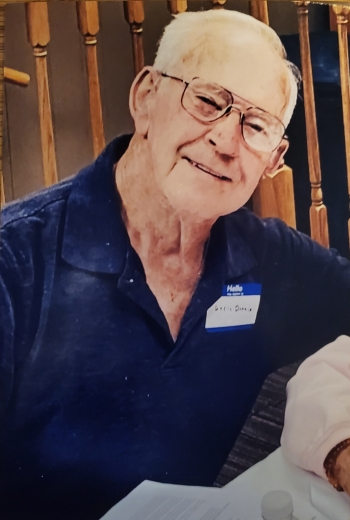 Donald Lee Crouse, 85, passed away surrounded by family on Thursday, Dec. 9th. 
Carson Stapp Funeral Home has been entrusted with arrangements.  For online obituaries and condolences, please visit:  www.carsonstappfuneralhome.com
Don was born on March 21, 1936 to Paul and Opal Crouse in Boone, Iowa.
Don was united in marriage to the love of his life, Sharon Lea Heck on July 26, 1956.  The couple celebrated 65 years of marriage in July of 2021.  To this union were born 4 children, Jeffrey Lee, Tami Sue, Ronald Dean and Rusty Alan. 
Don was a proud Navy Veteran, having served from December 1953 until March 1957.  Following his Navy stint, Don worked at John Deere, Mid- States Steel and the National Animal Disease Center in Ames, from which he retired in 1995.  Don enjoyed many hobbies throughout his 85 years.  He enjoyed hunting and fishing with his best friend and buddy, Kenny Ross.  The two were lifelong friends with a friendship that spanned 80 years.  Don also enjoyed stock car racing – one of his absolute pride and joys was building race cars and engines for son Rusty.  Many Saturday nights, the family spent at the Boone Speedway.
Don was so very proud of his family.  He would tell anyone who would listen how blessed he was with family.  He loved to play Uno Attack with the family and he loved having all of the family around every Sunday for dinner.  Our dad was many things: he was a son, a brother, a husband, a father, a grandfather, a great grandfather, an uncle and a friend.
Don is survived by his wife, Sharon of Ogden, children, Jeff Crouse and Ron Crouse, both of Ogden, Tami (Dean) Hartwig of Boone, Rusty (Lisa) Crouse of Boone.  Grandchildren, Jaimi (Richard) Jenkins of Lenexa, KS, Cody (Karley)Gorman of Germany, Mindy Gorman of LeGrand, IA, Sammi (Jared) Kennon, Natasha (Alex) Moyer, Derik Gustin, Amanda (Bryce) McCoy and Jarrett (Parker) Crouse, Jeff (Courtney) Hartwig and Justin Hartwig Castle and Atlas Crouse.  Great grandchildren, Connor and Kaci Wirtz, Ava and Eli Jenkins, Braxtyn and Kadyn Moyer, Gabe and Brock McCoy, Brooklyn and Addy Gustin, Hayden, Madi and Ada Hartwig.  Don is additionally survived by his brother Doug (Mary) Crouse of Ogden and sister-in-law, Dee Huntley of Ogden and many nieces and nephews.
He was preceded in death by great grandson, Keaton Wirtz, his parents, twin brother Ronald Dean, brothers Bob and Dick and sisters Charlene Stewart and Pat Bosch. 
In lieu of flowers, memorials may be left to the discretion of the family. 
The family would like to thank Dr. Josh Anderson, Juanita  Gilley and the wonderful nurses and staff at Boone County Hospital.  They did an amazing job of caring for our husband, dad and grandpa. 
Category:
Mid-America Publishing
This newspaper is part of the Mid-America Publishing Family. Please visit www.midampublishing.com for more information.