Donald LeRoy Erb, 94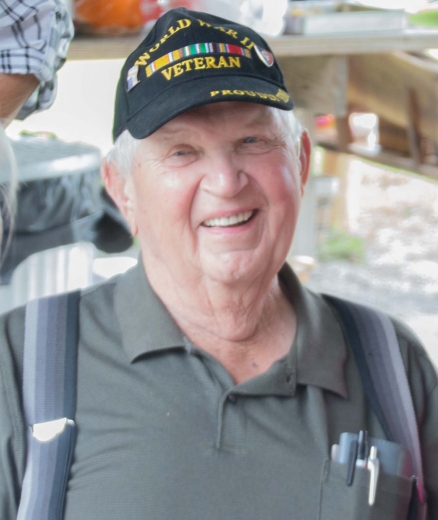 Donald LeRoy Erb
June 26, 1926 – December 30, 2020
Donald LeRoy Erb, 94, of Boone, Iowa went to be with his Lord Jesus, and beloved wife Helen on Wednesday, December 30, 2020. Don was at his home where he had resided since 1949.
Don was born June 26, 1926 in Cooper, Iowa the son of Elmer and Stella (Van Cleave) Erb. In 1929 his family moved to a 240-acre farm southeast of Ogden. It was there that he developed his love for agriculture. He grew up attending a one-room school and then went on to Ogden High School, where he was a member of the FFA, graduating in 1944.
Don entered the Army that fall serving in the Philippines for 18 months. After the war he returned to Boone and rented some land to start farming while working at various other jobs.  Don met Helen Hedblom and they were married on August 14, 1948.  They resided in Boone until buying a small farm south of Boone in 1949. To subsidize the farm income, Don took a temporary job with Firestone in Des Moines that lasted 30 years. After retiring from Firestone, Don served as weed commissioner for Boone County for 18 years. After his second retirement, he continued overseeing farm activities, traveling, and spent time spoiling grandkids and great grandkids.
Don was a lifetime member of the American Legion, 30-plus year member of the Lions Club, attended Open Bible and Bethel Churches. He served on the United Community School Board for 10 years and was instrumental in getting the current facilities built.
Don was preceded in death by his parents, loving wife Helen (Hedblom) Erb, sisters, Lucy Birchfield, Juanita Kester and "blood brother" Glenn Schwolow of Chicago.
He is survived by sister, Betty Haberkorn, brother LaVern (Trudy) Erb, both of Hollister Missouri; children: Steve (Sherry) Erb, Bob (Janet) Erb, Dennis (Sharon) Erb, Barb (Wayne) Dohrman, Brenda Stanley, and Jeff (Jo) Erb all of Boone; foster son: Jeffrey of Phoenix, AZ; 21 grandchildren and 22 great grandchildren.
In lieu of flowers, memorials may be given to Squire Boone Cemetery or to the family to use at their discretion and can be sent to C/O Schroeder-Stark-Welin Funeral Home, P.O. Box 116, Boone, IA 50036.
A private family graveside service will be held at Squire Boone Cemetery in Boone. A public Celebration of Life will take place at a later date.
Online condolences may be left at www.schroederfuneral.com
Schroeder-Stark-Welin Funeral Home
515-432-4550
Category:
Mid-America Publishing
This newspaper is part of the Mid-America Publishing Family. Please visit www.midampublishing.com for more information.