Georga Lingren 67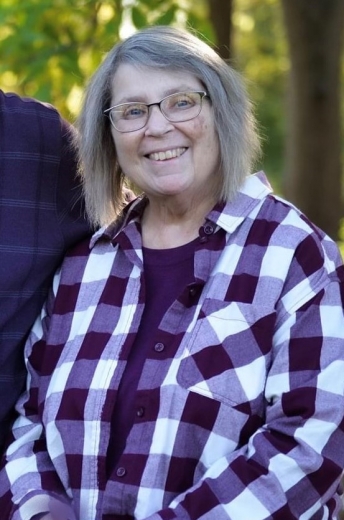 Georga Lingren 67, of Ogden, Iowa, passed away on Monday, November 22, 2021, at her home.
Funeral services will be held at 10:30 a.m., Saturday, November 27, 2021, at Zion Lutheran
Church in Ogden. Rev. Max Phillips will officiate. Burial will follow at Glenwood Cemetery.
Visitation will be held from 4:00 to 8:00 p.m., on Friday, November 26, 2021, at Zion Lutheran
Church. Carson-Stapp Funeral Home has been entrusted with arrangements. For online
Georga Anne Heck was born on February 19, 1954, in Boone, Iowa, the daughter of Darrell and
Shirley (Niederjohn) Heck. She graduated with the Ogden High School class of 1972.
Georga married Randy Newton on June 29, 1974. To this marriage two children were born, Bart
and Jeni. The couple later divorced.
Georga was united in marriage to Darrell Lingren on June 24, 1988, at Zion Lutheran Church.
To this union three children were born, Laura, Brenda, and Brett.
Georga worked as a daycare provider for many years. She also worked at Ogden Maidrite until
it closed and then at Clark's Food Mart for many years until retiring in 2018. Her most
important job was as a stay-at-home mom with her kids and grandkids. Georga loved to bake,
read, crochet, and made many blankets for family and friends.
Georga was a member of Zion Lutheran Church where she was the Superintendent and taught
Sunday school, helped with vacation bible school and also coordinated the Angel Tree Project
for the church. She enjoyed the McGraw Senior Center and was an avid Ogden Bulldogs and
Iowa State Cyclones fan.
She is survived by her husband, Darrell Lingren of Ogden; children, Bart Newton, Jeni (Mike)
Manship, Laura (Jeremy) Lass, Brenda Lingren and Brett Lingren; grandchildren, Hannah
Casey, Jersey Manship, Lake Manship, and Payton Lass; sister, Jeri (Ron) Newburg, brother, Jim
(Susan) Heck; mother in law, Maxine Lingren; sisters in law, Elaine (Tom) Wilson, Deanna
(Bruce) Anderson, Donna (Ted) Meeker and brother in law, Al Lingren; aunts, Dee Huntley and
Sharon (Don) Crouse; and many nieces and nephews.
She was preceded in death by her parents, father-in-law, Dale Lingren, and an uncle, Don
Huntley.
In lieu of flowers memorials may be left to the discretion of the family for Georga's favorite
charities. The family would like to thank family, friends, and Israel Home Hospice for all their
support.
Category:
Mid-America Publishing
This newspaper is part of the Mid-America Publishing Family. Please visit www.midampublishing.com for more information.