Harold William Berg, 95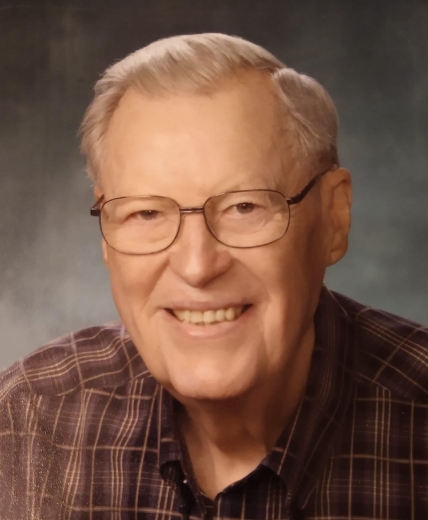 Harold William Berg, 95, of Ogden, Iowa passed away on Friday, April 2, 2021, at the Good Samaritan Society in Fontanelle, Iowa on April 1, 2021.
He was born on July 26, 1925 in Des Moines, Iowa the son of Anton and Maren "Marion" Johanna (Schmidt) Berg.  He was the youngest of 3 boys.
Harold enlisted in the Army on July 26,1943 on his 18th birthday to serve in World War II.  He served in Patton's 5th Armored Infantry Division fighting from Normandy into Germany.  He was injured in the Battle of Hurtgen Forest in Germany in the Winter of 1944 earning the Purple Heart.
On April 17, 1948, he married Lois Mae Jones at the Luther Memorial Church in Des Moines, Iowa.
His first career was based on the trade that his father learned in Demark, as a mason, and taught his three sons.  Harold was in partnership with his brother Bob for 25 years owning Sycamore Construction in Homewood, Illinois.  In 1966, he moved the family to Ogden, Iowa.  Shortly thereafter, he entered his career as a broker with IDS Financial Services.  His career lasted 16 years where he was recognized as a national leader with that firm making presentations at numerous sales conferences and earning numerous awards.  His son Keith joined him in 1987 and is still practicing today in central Iowa.
He fulfilled his lifelong dream of becoming a private pilot in the late 1970's and owned his own plane, which he was very proud of.  He was also a member of the Boone Area Pilot's Association.
He was preceded in death by his parents, wife, and two brothers, Anton Jr. and Bob. 
He is survived by two sons, Keith William Berg and wife Susan of Boone, Iowa, Edward Alan Berg and wife Kathleen of Orient, Iowa, nine grandchildren, 22 great-grandchildren, four great-great grandchildren and nieces and nephews.
Following Harold's wishes, his body has been cremated.
A memorial service will be held on Wednesday, April 14, 2021, at 11:00 a.m., at the Community United Methodist Church in Ogden.  Visitation will be prior to the service, starting at 9:00 a.m.  Pastor James "Buck" Buckhahn will officiate.    Interment will be at the Glenwood Cemetery in Ogden.  Military graveside Rites will be conducted by the Boone Veteran's Council. 
In lieu of flowers, those wishing to express their sympathies through a memorial may direct their gift to Museum of Danish America in Elk Horn, Iowa, Eastern Star Masonic Home Memory Care Unit in Boone, Iowa, or to the family to be used at their discretion.  Please send these memorials to Keith Berg, 929 S Jackson St, Boone, IA 50036.
Category:
Mid-America Publishing
This newspaper is part of the Mid-America Publishing Family. Please visit www.midampublishing.com for more information.