Irene Frances (Sondey) Stahr, 90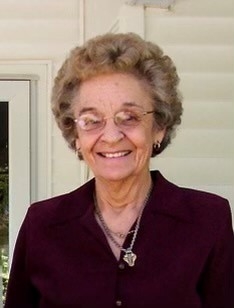 Irene Frances (Sondey) Stahr, 90, of Ames and previously Ogden, passed from this life on Friday, Aug. 20, 2021, while at home and surrounded by family.
A Funeral Mass will be celebrated at 10:00 A.M. on Friday, August 27, 2021 at Saint Cecilia Catholic Church, 2900 Hoover Ave., Ames, Iowa. Visitation will be held for one hour prior to the Mass. Burial will be in St. John' s Catholic Cemetery in Ogden.
Irene was born on Dec. 31, 1930, in Castle Hayne, N.C., to John and Victoria (Paczynski) Sondey. Both sets of her grandparents were hardworking Polish immigrants. She grew up on a produce farm along with older sister, Virginia, and younger brother, John, and from an early age was captivated by the North Carolina seashore.
Only a certain Marine passing through on his way home from the Korean War could convince her to move inland. In the summer of 1952, she met Henry Michael "Mike" Stahr at a military-sponsored dance. Theirs was a whirlwind yet lifelong romance: They were engaged after a week, married after a month, and at the time of Mike's passing in 2015, still crazy about each other after 62 years.
The couple moved often in their early years as Mike worked to eventually become a chemist and professor at Iowa State University. They were blessed with five children: Michael Gerard, born in Glens Falls, N.Y.; John Conrad, in Wilmington, N.C.; Mary Therese in Columbia, S.C.; Patrick Joseph in Richmond, Va., and Matthew Gerard in Ames.
The family moved to Ogden in 1970, where they became active members of St. John's Catholic Church. Irene sang in the choir there as well as in a local chapter of Sweet Adelines. She worked in an antique store called the Lions Den and later at the Ogden Manor, where she also spent countless hours volunteering.
Irene would host frequent Sunday feasts for her grown children and their families, greeting each guest with a hug and "Hi, love!" Her homemade bread was legendary, her cross-stitch exquisite, and her love for God, her family and animals unwavering. She was well into her senior years when she decided to become a vegetarian and get a tattoo.
Two of her favorite annual traditions were putting up flags at the cemetery in Ogden for Memorial Day—a family project—and springtime trips with her husband back to "their" beach at Topsail Island, N.C. If heaven has a seashore, they're undoubtedly strolling along it now.
Irene is survived by three sons, Michael (Julie) Stahr, Patrick (Mindy) Stahr and Matt (Chris) Stahr; one daughter, Mary (Dennis) Kuil Hilpipre; 15 grandchildren, Jenny (Eric) Fee, Jeremy (Alicia) Stahr, Kristopher Stahr, Katie (Ian) Coleman, Jessica (Shawn) Pruitt, Sarah (Reid) Keller, Daniel Kuil, Isaac Stahr, Joel Stahr, Elijah Stahr, Peter Stahr, Clare Stahr, Tyler Stahr, Rebecca (Wesley) Dittman, Ethan Stahr; five great-granddaughters, Olivia Stahr, Emily Stahr, Nora Keller, Isabelle Coleman and Baby Girl Pruitt soon to arrive; one great-grandson, Weslee Pruitt; many cherished nieces and nephews; and her cranky but devoted rescue cat, Tazzer.
Irene will be met in heaven by her beloved husband, her parents, son John Stahr, son-in-law Gordie Kuil, two unborn daughters, her sister and her brother.
Funeral arrangements are under the direction of the Adams Funeral Home and online condolences may be left for Irene's family at www.adamssoderstrum.com. In lieu of flowers, memorials may be left to the discretion of the family who will be selecting various causes dear to Irene's heart.
Category:
Mid-America Publishing
This newspaper is part of the Mid-America Publishing Family. Please visit www.midampublishing.com for more information.