JoAnn Zunkel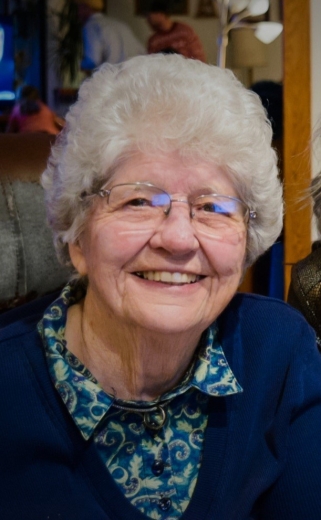 JoAnn "Jo" Zunkel, 88, of Ogden, Iowa, passed away at her home on Wednesday, August 30, 2023.
A memorial service for Jo will be held at 11 a.m. on Friday, September 15, 2023, at Community United Methodist Church in Ogden. Visitation will be held Friday, September 15 beginning at 9 a.m. until the time of service at the church. Arrangements were made with Carson-Stapp Funeral Home in Ogden. For Online obituaries and condolences, please visit: www.carsonstappfuneralhome.com
JoAnn Joyce Luther, the daughter of Emory and Hazel (Ringgenberg) Luther was born on April 26, 1935, in Boone, Iowa. She graduated from Grand Junction High School with the class of 1953.
On December 12, 1954, Jo was united in marriage to Robert (Bob) Van Pelt. To this union, three children were born: Steve, David, and Lynn. The couple lived and farmed in Beaver Township. Jo worked at the bank in Grand Junction and then as a homemaker when the children were born. Bob passed away in 1965 and Jo and her children moved to Ogden. She took a bookkeeping job at the Ogden Grain Company where she worked for 25 years.
On January 23, 1971, Jo was united in marriage to Roger Zunkel at the Community United Methodist Church in Ogden. They enjoyed dancing at Lake Robbins and socializing with friends. In the summer of 1973, the couple moved their family to the farm northeast of Ogden. Jo retired from Ogden Grain in 1998 and helped Roger farm until the couple retired in 2004. They enjoyed taking trips down south during the cold winter months.
Jo was a member of Community United Methodist Church in Ogden. She loved farming and attending her grandchildren's sporting events and activities. She also enjoyed fishing, mowing, gardening, and cruising down to the pond in her golf cart. She loved telling stories about her childhood and travel adventures with Roger.
In addition to her parents, Jo was also preceded in death by her husbands, Robert Van Pelt in 1965, Roger Zunkel in 2015; her son, Steve Van Pelt in 2016; brother, Bill Luther and his wife, Sharon; and brother-in-law, Dean Ringgenberg.
Survivors include her son, David (Kris) Van Pelt of Ogden; daughter, Lynn (Dave) Cotton of Gretna, NE; daughter-in-law, Denise Van Pelt of Ogden; seven grandchildren, Amy (Lindsy Reinert) Van Pelt, Nicole (Troy) Showers, Jamie (Nick) Wagner, Aaron Van Pelt, Mandy (Matt) Weinert, Dan and Joey Bellizzi; five great grandchildren, Ayden Downing, Lennon Wagner, Brinley Weinert, Emilia Weinert and Paxton Weinert; sister, LaVon Ringgenberg of Ames; as well as many friends, nieces, nephews, and cousins.
Memorials may be left to the discretion of the family where they will be distributed to Community United Methodist Church and Ogden First Responders.
Category:
Mid-America Publishing
This newspaper is part of the Mid-America Publishing Family. Please visit www.midampublishing.com for more information.