Larry Stowe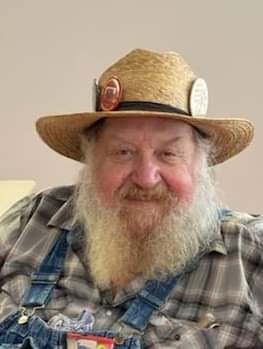 Larry Arnold Stowe, 79, of Boone, Iowa, passed away peacefully on Thursday, January 12, 2023 with his family by his side.
A Celebration of Life for Larry, will be held on Saturday, January 21, 2023 at 11:00 a.m. at Trinity Lutheran Church of Dillon. Memorials may be directed to the family for designation at a later date. For more information or to send a condolence, please visit www.mitchellfh.com or call 641-844-1234.
Larry Stowe was born on April 12, 1943 in Colorado Springs, Colorado (weighing 2 lbs). Charles H. "Bud" and Marcine C. (Sydnes) Stowe brought their son home in a shoe box and rested him on the dresser. From then on he lived in Colorado until 1951. His parents moved the family to Huxley Iowa for a short time and then purchased their forever home in Cambridge Iowa. That is where Larry picked up his enjoyment of raising different types of animals and riding/working on John Deere tractors. He began dating the love of his life, Sharon Smuck while teenagers and later got married on September 3, 1964 in Story City, Iowa.
Larry retired from Martin Marietta-Ferguson Quarry after 26 years as a plant operator. After retirement he worked at Sunset Village Mobile Home Park in maintenance for 6 years. After Sharon passed he moved to Ogden Iowa and began a new job working for the Rail Crew Express, picking up engineers, railroad crew driving them to their next destination. Larry worked for the Rail Crew Express until August of 2022. In his younger years he trained to become a butcher. Larry worked at
Marshall Pack in Marshalltown. He also butchered in State Center, Garwin and Tama lockers. Larry enjoyed antique John Deere tractors and was a member of the Mid Iowa Power Association. He also enjoyed "old cars". He spent time going to tractor & car swap meets with his grandchildren. Larry even liked fishing. He made many trips to trout fish in Decorah & Branson with Sharon and Jeff along with a few grandchildren. He also enjoyed butchering for friends and family.One of his hobbies was scrapping iron. Family and friends knew when they stopped at Larry's they would have a fun time with his array of different animals he always had, (chickens, ducks, geese, cows, pigs, goats, rabbits, even an emu). You would definitely leave his house with some funny stories and possibly an animal or two that he gave you.
Larry enjoyed traveling and meeting new people. Him and Sharon traveled on Amtrak a few times to go see their daughter in California. Larry made many trips toTexas & Indiana to see family. A few of those times were with his brother, John. There is no doubt that he will be remembered for his jokes and storytelling as he had a great sense of humor. There was no stranger in Larry's eyes he would talk with anyone. He also had a very big heart. If he could help a person out he would.
Larry is survived by his children: Murl Stowe of Dunbar, Jeff (Marcia) Stowe of Dunbar and Natalie (Curt) Erickson of Boone. Grandchildren: Ridge Stowe, Leven Stowe, Chris (Lacey) Stowe, Theresa Warnell, Timmy Warnell, Jessica Foster,
Zachary (Brooke) Plaehn and Travis Plaehn. He is also survived by 15 great-grandchildren and siblings: John (Ester) Stowe of Cambridge and Cindy (George) Oberman of Dexter, several nieces, nephews and a ton of friends.
Larry is preceded in death by his wife, Sharon; parents, Charles and Marcine and siblings: Doyle Stowe, Joann Smith, Robert Stowe, Ruth Chapman, Pat Stowe, Danny Stowe, Kenneth Stowe, Charles "Junior" Stowe and still born baby Stowe.
Category:
Mid-America Publishing
This newspaper is part of the Mid-America Publishing Family. Please visit www.midampublishing.com for more information.