Nyla Wisecup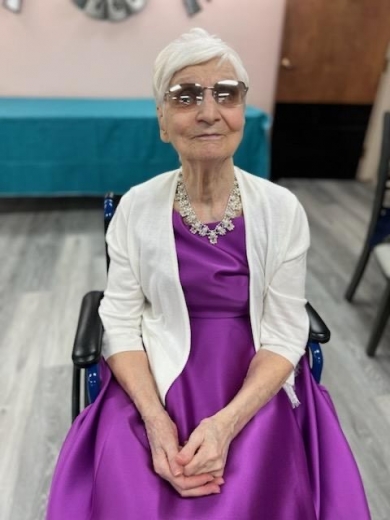 Heaven's gates surely opened wide when Nyla Genevieve Wisecup went home to the Lord on January 8, 2023, to join the communion of saints and life everlasting. She passed away at Iowa Methodist Hospital, one week after learning she had ovarian cancer.
Services will be held Saturday, January 14, 2023, at 11:00 a.m. at Schroeder-Stark-Welin Funeral Home at 609 7th Street, Boone, IA 50036 with Pastor Minna Bothwell of Capitol Hill Lutheran Church officiating. Visitation will be from 10 a.m. to 11 a.m. prior to the funeral service. Burial will be at Pleasant Hill Cemetery alongside her parents. Following Nyla's burial, there will be a luncheon with fellowship time.
On May 11, 1927, Nyla was born to Raymond R. and Helen (Adams) Wisecup and raised with her seven siblings on a Boone County farm in Harrison Township. Working on the farm, attending country school and St. Paul's Lutheran Church was where she learned many of life's lessons and grew her faith. In 1945 Nyla graduated from Stanhope Consolidated High School.
Nyla had a passion for nurturing children! For 22 years Nyla lived with many families, often after the birth of a new baby, working as a nanny and helping run their households. Many of Nyla's precious children, including the Murken, Anderson and Sturtz children, have been faithful in keeping in touch and blessing Nyla's life.
Nyla lost all vision due to the genetic disease Aniridia Blindness. In the face of adversity, Nyla provided an example of faith, resilience and fortitude. In 1964 Nyla moved to Des Moines and lived at and attended The Iowa Commission for the Blind headed by Kenneth Jernigan. It would be life-changing for Nyla. She learned independent cane travel, braille, home economics and the positive philosophy of living with blindness. She became an effective activist at the Iowa State Capitol using her gifts of communication, hospitality and famous baking skills to create many wonderful relationships and champion the lives of blind Iowans. Nyla loved attending The Iowa State and National Federation of the Blind National Conventions.
In 1995 Nyla moved to Stonecrest Apartments where she happily lived until she moved to Wesley Acres in 2022. Nyla made it her life's work and ministry to show others that to be blind does not mean you are less capable than others. Nyla took pride in dressing well each day. She loved cheering on Iowa State and Drake's men's and women's basketball teams. At Christmastime Nyla decorated every inch of her apartment "preparing to bring Baby Jesus into her home and heart." Nyla served her homemade cookies and candies to her friends and family so they could enjoy the blessings of Christmas together. Nyla was a member of Capitol Hill Lutheran Church where she had many beloved friends.
Nyla leaves to mourn her passing her sister Helen Carol Fisher and beloved nieces Pat Breckenridge and Kerrie Valentine, as well as many other nieces and nephews. She was preceded in death by her parents; sisters Eunice Clark, Doris Wisecup, Maxine Jones, JoAnne Davis; and brothers Raymond Wisecup Jr. and George Wisecup.
To honor Nyla and keep her smiling down from heaven, share homemade baked goods with friends and people you don't know, prepare your home for Baby Jesus each Christmas and invite friends and family into your home to create special memories, and reflect upon and overcome any misconceptions about persons living with blindness.
Category:
Mid-America Publishing
This newspaper is part of the Mid-America Publishing Family. Please visit www.midampublishing.com for more information.