Pam Fangmann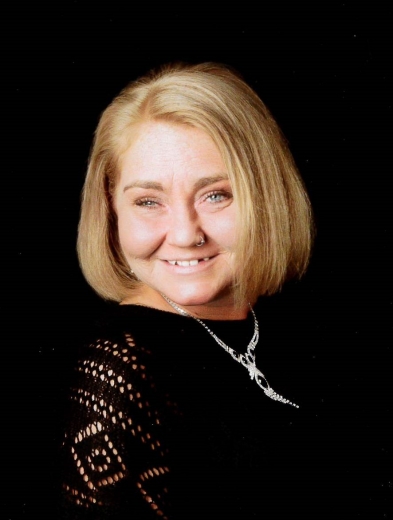 Pam (Juchems) Fangmann, age 51 of Boone, passed away on Thursday, November 17, 2022.
Pamela Kae Juchems was born on February 28, 1971 at Ellsworth Hospital (Iowa Falls) to Frances and Jay Juchems of rural Steamboat Rock. Pam graduated from Wellsburg-Steamboat Rock in 1989 and earned her medical secretary program from Hawkeye Technical College (2000).
Pam married Paul Fangmann on October 22, 2005. They met outside the apartments at Hawkeye Community College, with their first date - according to Pam - being a Nascar race in Chicago (Paul says it was earlier). Together they moved to Boone in 2005 shortly after they were married at Waterloo's Broom Factory. It was important to Pam that they renewed their vows with family and friends present seven years later.
Pam greeted people at the front desk at Fangs Automotive and for the last few years also worked at Dollar General, both in Ogden. She had a big smile, a boisterous personality, and the ability to strike up a conversation with anyone.
Pam LOVED the color pink, opportunities to dress up, a fancy drink, and seafood dinners at Red Lobster. She had a vast collection of shoes, loved a wide range of music, aspired to be a gardener, and loved her many pets over the years. Pam enjoyed traveling. She attended several racing events with Paul, although she likely enjoyed shopping at nearby malls more than the races.
From an early age and throughout her life Pam was a fighter, sometimes with those around her, but regularly with persistent health challenges including a Type I diabetes diagnosis at 3 ½, an eating disorder, breast cancer, and congestive heart failure.
While her health limited her ability to regularly work outside of the house, Pam created and shared an abundance of crafts and sewing projects with her family and friends, including a handful of beautiful quilts.
Pam had a tough exterior, was reliably stubborn, could hold a grudge, and was highly opinionated. At the same time, she had a lot of love to share with family and friends. She was often generous beyond her means, bestowing multiple gifts when one would do, especially to family and close friends.
Pam was preceded in death by father Jay Juchems and mother-in-law Darlene (Goedken) Fangmann. She is survived by her husband Paul Fangmann, mother Frances (Hulseman) Juchems, brother Brian Juchems, her god children Amber, Shae, Jaiden, Jayni, Jaycen, Jaxson, Jonathon, many cousins and their families, and close friends. Pam is also survived by two aunts Linda (David) Dreyer of Waterloo and Dorothy (LaVerne) Seehuisen of Waverly.
One of Pam's wishes was to have one day without having to worry about her diabetes. Her family takes comfort in knowing that she can now lay that burden down. Pam struggled but cared so deeply for those she loved. Her kindness and love will be missed.
Funeral Services was held at 11:00 A.M. on Tuesday, November 22, 2022 at the First Presbyterian Church in Boone. Visitation was held one hour prior. Graveside Service was held at 2:30 P.M. on Tuesday, November 22, 2022 at the Steamboat Rock Cemetery in Steamboat Rock.
Flowers are appreciated but those that would like to send a memorial donation, please direct to a diabetes organization of your choice.
Online condolences may be left at www.schroedermemorialchapel.com. Schroeder-Reimers Memorial Chapel at Sixth and Marshall Streets is in charge of arrangements.
Category:
Mid-America Publishing
This newspaper is part of the Mid-America Publishing Family. Please visit www.midampublishing.com for more information.