Paul Dragoo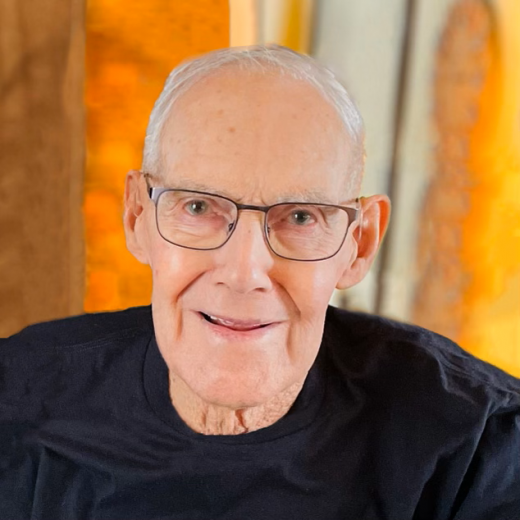 Paul Dragoo, 91, originally of Boone, Iowa, passed away at Good Shepherd Care Center in Mason City, Iowa, on Monday, October 23, 2023.
He was born on October 17, 1932, in Princeton, Missouri the son of Lonnie and Hattie (Oliver) Dragoo. On November 2, 1952, he married Rose Lee Kincade at the Baptist Church of Spickard, Missouri. He graduated in 1949 from Princeton High School in Princeton, Missouri. After his marriage to Rose, they spent two years at Fort Hood, Texas, where Paul was stationed in the Army. They moved to Iowa, and Paul worked for a farmer and then worked for Boone County for 30 years until his retirement.
He was a 60-year member of Bethel Church in rural Boone, where he served as a board member and was active in the AWANA children's ministry. He was also very active in the music ministry of the church. Music was a big part of Paul's life; he played the guitar and harmonica. Paul and Rosie enjoyed camping with the family.
Paul was preceded in death by his wife of almost 70 years, Rose Dragoo; his parents, Lonnie and Hattie (Oliver) Dragoo; sister, Mary Etta Ireland; son, Douglas Dragoo; sisters and brothers-in-law: Dilila (Kincade) Tharp-Brinnen and Dorthy (Kincade) Bracewell, Donald Kincade, Ronald Kincade, and Keith Bracewell.
He is survived by his daughter, Judy (Merlin) Bishop of Rudd, IA; daughter, Deva (Craig) Moore of Auburn, WA; daughter-in-law, Cammie (Doug) Dragoo of Canton, N.C.; grandchildren: Justin (Emily) Bishop, Jeff (Claire) Bishop, Katie (Matt) McDermott, Ian Moore, Tiffany (Marc) Monroy; great-grandchildren: Ben Bishop, Miles Bishop, Hudson Bishop, Louis Bishop, Sullivan Bishop, Rosie McDermott, Simon McDermott, Abe McDermott, and Tayanna Monroy; brother-in-law, Robert (Alida) Kincade; sisters-in-law, Patsy Kincade and Jean Kincade, and brother-in-law, Kenny Ireland.
Funeral services were on Saturday, October 28, 2023, at Bethel Church in rural Boone. Burial was at Pleasant Hill Cemetery following the funeral service.
Memorials can be directed to the Bethel Church Ministries.
Schroeder-Stark-Welin Funeral Home is assisting the family. Online condolences may be left at www.schroederfuneral.com
Category:
Mid-America Publishing
This newspaper is part of the Mid-America Publishing Family. Please visit www.midampublishing.com for more information.