Phyllis Lass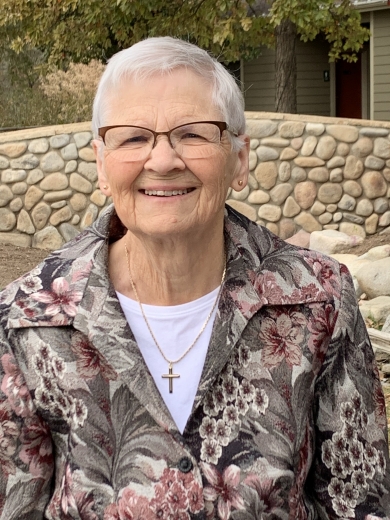 Phyllis Lois Lass of Greenwood Village, Colorado, died on the 19th of April, 2022, at the age of 86 years. Phyllis was born in Creston, Iowa, to Vaughn and Esther. She grew up in Union County, Iowa, and graduated from Arispe High School. After high school, she worked for Standard Oil in Des Moines before meeting and marrying the love of her life, Eugene, in December, 1959. Together they raised their family and farmed near Ogden, Iowa.
Phyllis was an active member of the Zion Lutheran Church for many years and participated in the Ladies Aid and LWML activities. She was also an active member of The Red Hat Society for several years. Phyllis enjoyed baking and was a master at making bread. She was an avid walker and often talked on the phone with family and friends while on the treadmill. She always started her day with a pedometer in her pocket.
While her eyesight was poor, it did not slow her down. She made the best of her talents and had the memory everyone relied on. She was the best example of patience, kindness, and love. She had a strong faith, infectious smile, and a kind soul.
She is survived by her husband of 62 years (Eugene), three children, Mark (Teri) Lass of Norwalk, IA, Sherri (Danny) Claycomb of Highlands Ranch, CO, and Duane (Karla) Lass of Urbandale, IA, twelve grandchildren, ten great-grandchildren, two great-great-grandchildren, two siblings, and many nieces, nephews, and cousins. Phyllis was preceded in death by her parents, a brother, and two grandchildren.
The immediate family held a private service in Highlands Ranch, Colorado, on April 20, 2022, with Paster Bruce Skelton of Holy Cross Lutheran Church officiating. There will be a Celebration of Life for family and friends held at the Zion Lutheran Church, 319 W Elm St, Ogden, Iowa, on June 4, 2022, at 10:30 a.m.
Donations may be made to The Foundation Fighting Blindness or Zion Lutheran Church, Ogden, Iowa.
Category:
Mid-America Publishing
This newspaper is part of the Mid-America Publishing Family. Please visit www.midampublishing.com for more information.