Randy Nissen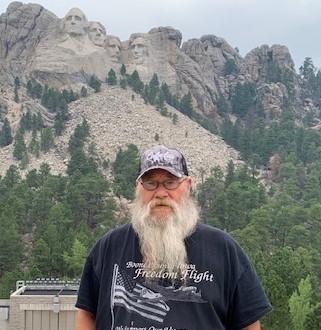 Randy S. Nissen, 63, of Dayton, Iowa, passed away unexpectedly on Saturday morning, September 10, 2022, while vacationing in Hill City, South Dakota, with his wife.
Visitation will be held Friday, September 16, 2022 from 5:00 to 7:00 p.m., at Carson ~ Stapp Funeral Home in Dayton. Funeral services will be held at 10:30 a.m., Saturday, September 17, 2022, at the United Methodist Church in Dayton. Pastor Kay. Christie will officiate. Following services, Randy will be cremated. Private family burial will be at a later date at the Pilot Mound Cemetery. For online obituaries and condolences visit: www.carsonstappfuneralhome.com
Randy Scott Nissen was born on April 16, 1959, in New Hampton, Iowa, the son of Werner and Twila (Snider) Nissen. He graduated with the Grand Community High School with the class of 1978. Following his graduation, Randy worked for 10 years at Chicago Northwestern Railroad.
On May 26, 1979, Randy was united in marriage to Denise Sundine at the Pilot Mound Church in Pilot Mound, Iowa.
Randy worked for Oscar Mayer/IBP in Perry before he began his career as a welder at Mid-States Steel Corporation in Boone. Randy retired from Mid-States on November 1, 2021.
He was a member of Dayton United Methodist Church and was a life member of the Hunt & Fish Club in Fraser.
In addition to his parents, he was also preceded in death by his brother, Kelly Joe Nissen and his nephew, Kelly Joe, Jr.
Survivors include his loving wife of 43 years, Denise Nissen of Dayton, Iowa; children, Amanda (Brandon) Osborne also of Dayton, Shannon (Jeff) Fitzgerald and Hollymae (Ryan) York both of Boone, Kenny (Holly) Nissen of Dayton; eight grandchildren, Teighan, Rozalyn, and Mekenah Osborne, Hailey, and Nathan Fitzgerald, Delanie, Lillian, and Maddison Nissen; his brother, Jay Kelly (Joellen) Nissen of Pilot Mound; aunts and uncles, Linda and Francis Fisher of Lawler, IA, Verlaine and Bailey Frye of Buckeye, MO; brothers-in-law and sisters-in-law, Doug (Laura) Sundine of Boone, IA, Dwain (Regina) Sundine of North Liberty, IA; sister-in-law and brother-in-law, Debbie (Rockie) Smith of Davenport, IA; many nieces and nephews; and his faithful puppy, Lucy-Lu.
Memorials may be left to the discretion of the family.
Category:
Mid-America Publishing
This newspaper is part of the Mid-America Publishing Family. Please visit www.midampublishing.com for more information.