Raymond F. Kruse, 89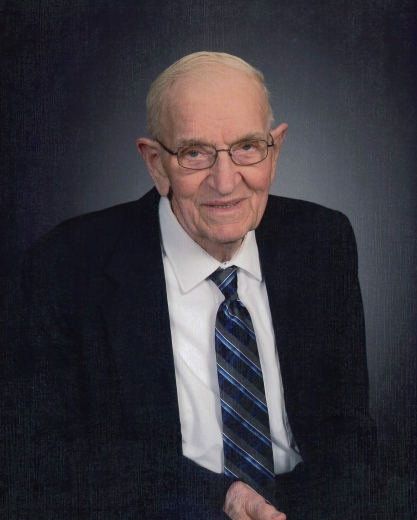 Raymond F. Kruse, 89, of Ogden, Iowa passed away on Thursday, December 24, 2020 at Mercy Medical Center in Des Moines, Iowa.
A funeral service for Ray will be held at 11:00 a.m. on Thursday, December 31, 2020 at Zion Lutheran Church in Ogden, Iowa with Pastors Lyle Hansen and Stephen Ude officiating.  Burial will follow at Glenwood Cemetery in Ogden.  Graveside Military Rites will be accorded by the Boone Veterans Council.  A visitation will be held from 4:00 p.m. to 7:00 p.m. on Wednesday, December 30, 2020 at Zion Lutheran Church in Ogden.  Carson-Stapp Funeral Home in Ogden, Iowa has been entrusted with arrangements.  For online obituaries and condolences, please visit: www.carsonstappfuneralhome.com
Raymond Fred Kruse was born January 3, 1931 in Turtleford, Saskatchewan, Canada to Fred and Lillian (Lobe) Kruse. He grew up on a homestead outside of Mervin with his two younger brothers Gordon Paul and Ronald Alfred. He attended Silver Lake Elementary school until his family moved to a farm south of Ogden, Iowa in 1944. Ray graduated from Ogden High School in 1950.
Ray enlisted in the United States Navy on January 5, 1951. He served aboard the USS Bearss Destroyer DD 654 as Torpedoman's Mate TM2. Ray met Dorothy Murken while home on leave in 1951. They were married on October 19, 1952. Ray was honorably discharged November 6, 1954. He was awarded the Medal of Defense for his service during the Korean War.
In the spring of 1955, Ray and Dorothy moved north of Ogden and raised their children: Linda Arlene, Karla Jean and Steven Ray. Their first home was where Steve and Shelley currently live.  Ray and Dorothy moved to their current homeplace in 1962.
Ray farmed with his dad for many years. In 1957, Ray and his dad, with the help of Ernie Behn and the Boone County Soil Conservation, built the largest farm pond in Boone County. Ray grew corn and soybeans, had a herd of over 200 head of cows, farrowed and had feeder pigs. Ray delivered seed corn for Lowe-Berry's. He did various custom farming jobs, such as spraying, combining, and hay baling. He sold Crow's seed corn and sold Archer Oil for over 30 years. He was named Outstanding Soil Conservation District Commissioner in 1963 and was named Outstanding Boone County Conservationist in 1965. He won several awards for Crow's Seed Corn Salesmanship.  Ray worked at Ag Serv and Seven Oaks for several years along with serving as a guard at the high bridge after 9/11. Ray and Steve started raising Norwegian Elkhounds in the 1980s and they have continued for over 35 years. Ray removed snow for many families, businesses and churches here in Ogden. He and Dorothy began selling funnel cakes in 1984 and continued up until his death.
Ray was also involved in community and church projects. He was a charter member of the Boone County Historical Society.  Ray and Dorothy were foster parents and also invited Eva Buettner, a foreign exchange student into their home. Ray served for many years on Zion Lutheran's Church Board of Stewards. He and Dorothy served as youth counselors for LYC for 30 years.  Ray served on the Farm Bureau Board for 20 years. He and Dorothy were honored when asked to be Boone County Fair Parade Marshalls in 2016.
Ray loved talking with all of the fishermen and families that came out to the pond. He spent many hours in his shop tinkering, fixing and changing things. When a float needed to be built, Ray was on it. He has built many Ogden Fun Days floats, homecoming floats, Republican floats and church floats. Ray loved giving hayrides and hosting sledding parties. He loved his hay crews. Ray enjoyed collecting antiques, watching the birds on his many bird feeders, and spending time with his family and friends.
Survivors include his wife, Dorothy of 68 years, daughter Linda (Mike) Thomas of Abrams, WI, Karla (Rodger) Kahler of Ogden, Steve (Shelley) Kruse of Ogden, grandchildren Tara (Jason) O'Leary, Ashley (Nick) Gasau, Chelsea (Doug) Dahms, Afton (Jens) Greff, Garrett Kahler, Reagan and Ryker Kruse and great-grandchildren Klaire, Sophia and Gretchen O'Leary, Eli, Adeline and Silas Gasau, Jonah, Brynlee and Truman Dahms, two brothers, Gordon (Kathy) Kruse, Ronald (Lu) Kruse, brother-in-laws Richard Murken and Wade Sheesley, along with many nieces and nephews and their families.
He was preceded in death by his parents, Lillian and Fred Kruse, mother and father-in-law John and Alice Murken, brother-in-law Norman Murken, and sister-in-law, Helen Jean Sheesley.
In lieu of flowers, memorials may be sent to: Dorothy Kruse, 799 190th Street, Ogden, Iowa 50212 in memory of Ray.
Category:
Mid-America Publishing
This newspaper is part of the Mid-America Publishing Family. Please visit www.midampublishing.com for more information.