Roy W. Stockman, 84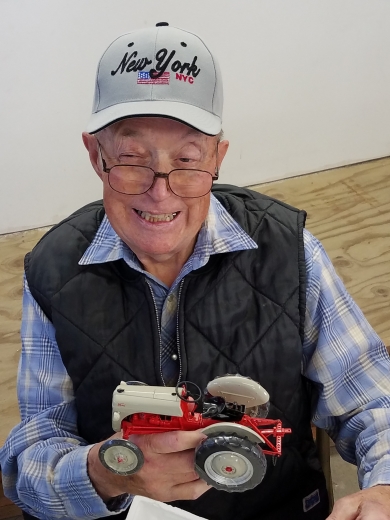 Roy W. Stockman, passed away on August 19, 2021 at his home in Ogden, Iowa.  He was 84 years old.
Funeral services for Roy will be held at 10:30 A.M. on Thursday, August 26, 2021 at Zion Lutheran Church in Ogden.  Pastor Stephen Ude and Pastor Lyle Hansen will officiate.  Burial will follow at Glenwood Cemetery in Ogden.  Visitation will be held from 5-7 P.M. on Wednesday, August 25, 2021 at the church.  Carson-Stapp Funeral Home has been entrusted with arrangements.  For online obituaries and condolences, please visit: www.carsonstappfuneralhome.com
Roy Wayne Stockman, son of Rutherford and Cora (DePue) Stockman was born on October 14, 1936 in Boone, Iowa.  He was the youngest of three boys. His brother Rutherford W. was 20 years older and his bother Albert was 16 years older.  He graduated from Ogden High School in 1955.
On June 22, 1958, Roy was united in marriage to Evelyn Lucille Schoff at Zion Lutheran Church in Ogden.  Their marriage was blessed with two children, Kevin Wayne and Kristine Rene.  The couple shared 63 years of marriage.
Roy worked for the Highway Commission, Dotson Service Station in Ames, Morrow Oil in Boone, and for Fareway Warehouse for over 48 years, until retiring at the age of 78.
Roy and Evelyn were members of the Boone Square Dance and Ames Square Dance Clubs.  On their 25th wedding anniversary, they started Stockman Barn Dance in Ogden.  They ended Stockman Barn Dance on their 50th anniversary.  Roy enjoyed his Ford cars and John Deere and Farmall tractors.
Roy is survived by his wife, Evelyn L. Stockman of Ogden; children, Kevin (Darla) Stockman and Kristine (Kern) Marlow both of Ogden; grandchildren, Corey (Mary) Stockman, Jennifer (Jeff) Trotter, Karissa (Tyler) Bailey, and Kourtney Marlow; great grandchildren, Hunter and Ryan Stockman, Breanne and Kyler Trotter, Tucker Bailey, and Owen Bailey expected in November of 2021.  He is also survived by numerous nieces, nephews and other relatives and friends.
In addition to his parents, Roy was also preceded in death by his brothers, Rutherford W. Stockman and Albert Stockman; sisters-in-law, Evelyn Marie Stockman, Elizabeth Mae Nelson; daughter-in-law, Lynn Stockman; and several nieces and nephews.
Memorials may be left to the discretion of the family.
Category:
Mid-America Publishing
This newspaper is part of the Mid-America Publishing Family. Please visit www.midampublishing.com for more information.